Apple's Ipod Nano 6th Generation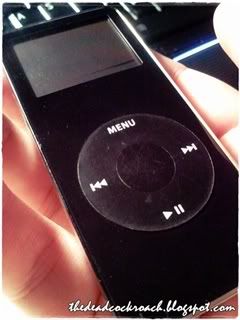 When I received news of the replacement program for the 1st Gen iPod Nano last December, I procrastinated till March this year before I finally send in my set to be replaced.
(Refer to the Apple's Official Statement here)
The replacement could not have come at a better time as the battery in my device was just beginning to get cranky.
Even after a full charge, the power would be depleted within ten minutes which is about the length of two songs.
After dropping my Nano off at the service centre, I waited for four weeks before I received the email to pick up my new MP3.
As I am getting this as a replacement set, it does not come with the box
(it was just wrapped in cling wrap)
, no earphones, USB cable nor even instructional booklet.
It makes me wonder is this a refurbished unit?
Anyway, meet the 6th Gen iPod Nano!
Home screenOne notable feature of the 6th Gen Nano compared to it's previous five predecessors is obviously the size. As an effort to reduce it's size, the click wheel - a feature of the iPods - has been taken out of the design, leaving behind a multi-touch screen.
So, instead of running your fingers around the click wheel like you used to, you now have to tap or swipe the screen to access the icons.
Just think of the iPhone but many times smaller. Although the user interface looked somewhat similar to the iPhone or iPod Touch, the Nano does not run on iOS because you cannot add or remove apps from it .
What you can do, however, is to customise your home screen.
For example, these are the icons on your home screen: Music, Clock, Photos, Audiobooks, Podcasts, Voiceover, etc.
Personally, I have no use for Photos and Audiobooks so I can choose not to display them on the home screen by going to the settings and 'de-select' them.
You can also drag and rearrange the icons to your liking by tapping and holding the screen. When the icons start to wriggle, drag the icon to your preferred location and press the sleep/wake button to lock it in position.
There are also twelve default wallpapers for you to choose from. Regrettably, you cannot set your own photo as the wallpaper.
As for audio file support, the Nano can handle AAC (protected and unprotected), HE-AAC, AIFF, Apple Lossless, Audible, MP3, MP3 VBR, and WAV files.
You might be pleased to know that the FM radio tuner which has been absent in all the generations has been integrated into the latest version.

Clock faceAnother feature of the 6th Gen Nano is it's ability to double up as a watch
(strap sold separately)
with eighteen different watch faces to choose from such as digital, analog and cartoon characters.
Under the 'watch' mode, there is the Stopwatch and Timer function as well. Just swipe to the left!
FitnessGood news for the gym rat is that the 6th Gen Nano comes with a built-in accelerometer. Whether you choose to run or walk, it will help you to calculate - based on your gender, weight and height - the duration taken, distance covered and calories burn.
Back clipThe 6th Gen Nano comes with a clip on the back so you could easily clip it to your pocket. As the multi-touch screen display is rotatable, no matter which angle you clip your Nano, you could always rotate it to face you.
Just place two fingers on the screen... and twist.
Here are my after-thoughts:
The 6th Gen Nano is very tiny. Too tiny, in fact.
Measuring just 1.48 inches by 1.61 inches, I realised that I have problem controlling it with only one hand as compared to my 1st Gen Nano.
Being smaller may not necessarily be good as there is always the fear of misplacing it.